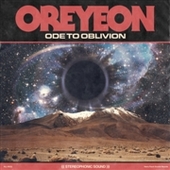 OREYEON
Ode To Oblivion
HEAVY PSYCH SOUNDS ITA
Sophomore album by Italy based band crosses transversely all member's musical influences and moves beyond the rules that mostly describe the stoner rock genre. The vocal structures and harmonizations are more complex, rich of melodies, while the music tends towards a heavier path, taking cues from way different kinds of genres and band references.
CD
12,00 €
OSC MEETS BMC
Freak Out In The Fjord
SPACE ROCK PRODUCTION GER/DK
In November 2017, Øresund Space Collective and Black Moon Circle played a show in Trondheim, Norway. The next day they were booked into the Øra Studio for a jam session with 2 guitars, 2 bass players, 3 drum kits, modular synth and electronics. Four jams were recorded ranging from Miles Davis to Grateful Dead to heavy space rock inspired sounds.
2CD
18,00 €